Sat., March 24, 2018
3:00 p.m.
Christ Memorial Church
595 Graafschap Rd.
Holland, MI 49423
Adults $20, Students $5
It is said "there is no greater love than to lay down one's life for one's friends." On the eve of Holy Week and Passover, come bask in the rich harmonies of Rossini's STABAT MATER and Verdi's FOUR SACRED PIECES. Holland Chorale uniteS with the choruses and soloists of Opera Grand Rapids and Park Church of Grand Rapids for this stunningly beautiful music accompanied by chamber orchestra.
SPONSORED BY THE EDGAR & ELSA PRINCE FOUNDATION
AND THE AMON FAMILY
FEATURING THE CHORUSES OF
MEET THE SOLOISTS:
Madelaine Lane | Soprano
Finalist in the 2015 Nicholas Loren Vocal Competition, this season soprano Madelaine Lane returns to New York Lyric Opera as Donna Anna in Don Giovanni. This winter, Ms. Lane will appear with Opera Grand Rapids in its production of I Dream and as the soprano soloist in Rossini's Stabat Mater. Last season, Ms. Lane made her role debut as Countess Almaviva in Le Nozze di Figaro with West Michigan Opera Project. She later reprised this role with New York Lyric Opera, in her Carnegie Hall debut, in a concert of opera scenes. She also appeared in the Great American Voices Concert Series where she sang Richard Strauss's Vier Letzte Lieder
madelainelanesoprano.com
Christine Amon | Mezzo-soprano
Praised for her "sweet, powerful voice," Grand Rapids, MI native Christine Amon is a versatile mezzo-soprano excelling in opera, musical theater, and art song. Last season, she made company debuts as Erika in Samuel Barber's Vanessa with Toledo Opera, and as Carrie Pipperidge in Carousel with Union Avenue Opera of St. Louis. Recent engagements also include the role of Hansel in Hansel and Gretel with Opera Louisiane and Opera Memphis, Gretchen in The Student Prince with Opera Grand Rapids, and Edith in The Pirates of Penzance with Nashville Opera. An Opera Memphis favorite, Ms. Amon has appeared in recent seasons as the wife in The Music Shop, and Pitti-Sing in Ned Canty's production of The Mikado. She also created the role of Mich in Mich and the Moon (music by Jack Perla; libretto by Jerre Dye) in the premiere of The Ghosts of Crosstown. In 2012, Christine was a finalist in the prestigious Lotte Lenya Competition hosted by the Kurt Weill Foundation for Music. In addition, she's been awarded first place in the The Beethoven Club of Memphis Young Artist Competition, Opera Grand Rapids Collegiate Vocal Competition, and the Dr. Marjorie Conrad Art Song Competition.
christineamon.com
Jon Lovegrove | Tenor
Tenor Jon Lovegrove has recently performed with GVSU Opera Theatre as Rinuccio (Gianni Schicchi), the Kent Philharmonic Orchestra as Rodolfo (La Bohème), and with Opera Grand Rapids as Shem (Noah's Flood) and Remendado (Carmen). He has been a member of the OGR chorus since 2007. In that time, he has appeared in multiple productions, including I Dream, Rigoletto, and The Barber of Seville. He is one of OGR's Emerging Artists and has also performed the role of Timothy in 2nd Act Opera's production of Help, Help, the Globolinks! Mr. Lovegrove was a soloist for the Michigan premier of Benjamin Britten's The World of the Spirit with the Evangelical Choral Society in 2013. He has performed with the ECS on multiple other occasions. Mr. Lovegrove holds an Associate's Degree in Vocal Performance from Grand Rapids Community College. While pursuing that degree, he was a member of the Grand Rapids Community College Choir, Madrigal Singers, and Shades of Blue Vocal Jazz Ensemble.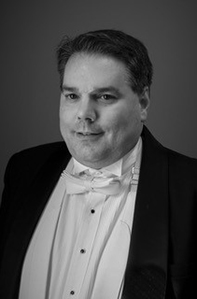 Trent Broussard | Baritone
Trent Broussard is a native of Arkansas and studied vocal music at Arkansas State University earning his Bachelor and Master of Music degrees. In college, Trent studied voice with David Niederbrach and for the past 10 years has studied with Nicholas Loren. Trent was a finalist for the Northeast Arkansas Symphony Young Artist Competition in 1991 and for the Nicholas Loren Vocal Competition in 2009 and 2010. Solo work has included Handel's Messiah with the Delta Symphony and Mozart's Requiem with the Holland Chorale and Symphony. Trent sings with the Holland Chorale, the West Michigan Opera Project and has sung with the Opera Grand Rapids Chorus in Carmen, Verdi's Requiem, Orpheus and Eurydice, and Rigoletto. Solo roles include Ruder with OGR in The Student Prince, the Herald with OGR in Rigoletto, and most recently Figaro with WMOP in The Marriage Of Figaro. In 2018, Trent will be singing the role of Olin Blitch with WMOP in Susannah.
Tickets may also be purchased through the Chorale office by calling 616-494-0256, email to jennifer@hollandchorale.org  or at the door .